Pine Grove Property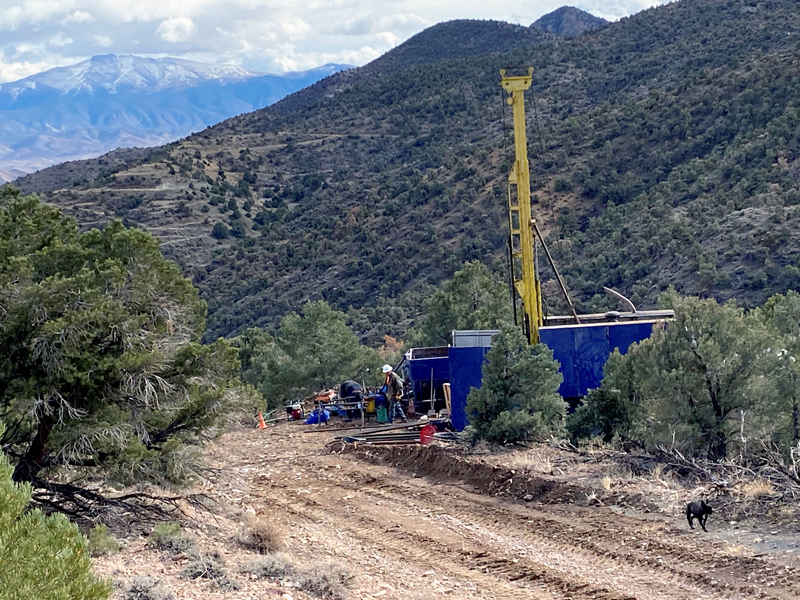 Pine Grove Hills, Lyon County, Nevada
7.2 square miles (18.1 square kilometers)
100% Lincoln Gold Mining Inc.
(Wilson deposit & unpatented claims)
(Wheeler deposit & unpatented claims)
Two gold deposits in the Pine Grove fault zone
Development-stage w/ near term production potential. Permitting in Progress.
280 Holes 94,380 ft.

NI 43-101 Technical Report*

NI 43-101 Preliminary Economic Assessment ("PEA") filed on SEDAR February 16, 2015
Open-pit mine w/ heap leach processing
Significant exploration potential exists beyond current resources

Measured & Indicated Gold Resources *

5,553,937 Tons grading 0.03 opt (0.93 g/t) gold at 0.007 opt gold cutoff grade * (heap leach) & 334,170 Tons grading 0.18 opt (6.26 g/t) gold at 0.10 opt gold cut-off grade * (mill)

Inferred Gold Resources *

43,450 Tons grading 0.03 opt (1.04 g/t) gold at 0.007 opt gold cut-off grade *
2.3:1
75%
Summary
The Pine Grove gold property is a development-stage project with near term potential for gold production. Current Measured and Indicated resources are present in the Wheeler and nearby Wilson deposits, which have immediate potential for open-pit mining and heap-leach processing. Both deposits were mined in the past by underground methods for high-grade gold. Remaining lower grade material comprises the known resources and offers substantial exploration potential. A Preliminary Economic Assessment ("PEA") was announced on December 8, 2011 and filed on SEDAR on December 14, 2011. The PEA was prepared by Telesto Nevada Inc. On February 16, 2015, Lincoln filed an Amended and Restated NI 43-101 Preliminary Economic Assessment for the Pine Grove Project, Lyon County, Nevada, dated February 4, 2011, prepared by Welsh Hagan Associates (formerly Telesto Nevada, Inc.).
Summary tables of gold resources are presented in the following sections. As funding becomes available the final stages of the permitting-process will be undertaken, along with a NI 43-101 resource update, and a Pre-Feasibility Study update.
Technical Disclosure
Mr. Joseph Sawyer, President of the Company's U.S. subsidiaries and Mr. Micheal Attaway, COO and Vice President Operations, supervise the Company's exploration programs and operations in the United States, and Mr. Paul Saxton, P. Eng., President & CEO, is the Company's "Qualified Person" for the purpose of NI 43-101 "Standards of Disclosure for Mineral Projects". Mr. Saxton and Mr. Sawyer have reviewed and are responsible for the technical disclosure contained in this section of the Company's website.
Location
The property is located approximately 21 miles south of the farming and mining town of Yerington in the Pine Grove Hills, Humboldt-Toiyabe National Forest, Lyon County, western Nevada. Access is excellent via paved Nevada State Highway 208 to the East Walker Road (gravel) southward to the Pine Grove drainage and then 4 miles by dirt road onto the center of the property. The property encompasses nearly all the Pine Grove (Wilson) mining district.
Land
Lincoln controls 100% mineral interest in claims covering nearly 7.2 square miles (18.1 square kilometers). The Company holds a mining lease on the Wheeler mine (4 patented claims) and 243 unpatented claims (lode, placer and millsite) that surround the Wilson patented claims. The Company's land position covers significant gold mineralization in the district, exploration targets, and adequate land for mine and processing facilities. The patented claims (private property) are under the jurisdiction of the State of Nevada. Unpatented claims are under the jurisdiction of the U.S. Forest Service.
Geology & Mineralization
The Pine Gove district is dominated by Jurassic granodiorite and its variations. The granodiorite has undergone potassium alteration and locally displays abundant secondary biotite. Dikes and sills of various compositions (andestie, dacite, rhyolite) have intruded the granodiorite within the Pine Grove fault zone. These dikes and sills are thought to be the source of the gold mineralization. Native gold is associated with small quartz veinlets, stockworks, and disseminations hosted primarily in the granodiorite. Where unoxidized, mineralized quartz veinlets contain minor pyrite, minor chalcopyrite, pyrrhotite, and native gold. Elevated copper is present. The style of mineralization appears to be of the "Shear Zone" sub-type of Plutonic-Related Gold Quartz Veins and Veinlets." The shallow-dipping, Pine Grove fault zone is approximately 600 ft wide and at least 1 mile long and appears to be the primary structural control on gold mineralization. The fault zone is an excellent exploration target. Significant gold mineralization occurs as stacked, sub-horizontal zones and pods ranging from 5 to 70 ft in thickness. Most of the mineralization drilled to date is shallow, less than 200 ft in depth. Although high-grade gold (>0.5 oz per ton) was the target in the historic past, the enclosing, lower grade gold mineralization ranging from 0.01 to >0.1 oz per gold is the present material of economic interest.
Measured and Indicated Gold Resources at Pine Grove
Resources reported in the Amended and Restated NI 43-101 Preliminary Economic Assessment for the Pine Grove Project, Lyon County, Nevada, dated February 4, 2015, prepared by Welsh Hagan Associates and filed on SEDAR on February 16, 2015 are reported below. The resources were classified in accordance with the Canadian Institute of Mining, Metallurgy and Petroleum (CIM) definitions and are reported as measured, indicated (Table 1) and inferred (Table 2). To comply with the CIM definition of "reasonable prospects for economic extraction", only those blocks contained within a designed pit shell as Mineral Resources. A link to the technical report is provided.
(Click here to view the NI 43-101 Preliminary Economic Assessment for the Pine Grove Project, Lyon County, Nevada dated February 4, 2015).
Table 1: Total Measured and Indicated Gold Resources at Pine Grove (at March 25, 2022):
At 0.007 opt Au cutoff

Tons
(000S)

Tonnes
(000S)

Gold

Cutoff
Grade
(opt)

Cutoff
Grade
(g/t)

Average Grade

Ounces

Grams

Gold
(opt)

Gold
(g/t)

Indicated (Heap leach)
5,553,937
5,038,448
0.007
0.24
0.03
0.93
149,956
4,664,082
Indicated (High grade mill)
334,170
303,154
0.007
3.43
0.18
6.26
61,006
1,897,470
Total Indicated
5,888,107
5,341,602
0.007
0.04
1.23
210,962
6,561,552
Table 2: Total Inferred Gold Resources at Pine Grove (at March 25, 2022):
At 0.007 opt Au cutoff

Tons
(000S)

Tonnes
(000S)

Gold

Cutoff
Grade
(opt)

Cutoff
Grade
(g/t)

Average Grade

Ounces

Grams

Gold
(opt)

Gold
(g/t)

Inferred
43,450
39,520
0.007
0.24
0.03
1.04
1,324
41,180
Notes to Tables 1 & 2:
Mineral Resources are reported using a long-term gold price of $1425/oz.
Rounding of tons and contained gold results in apparent differences in totals and are in accordance with reporting guidelines.
Contained metal estimates remain subject to factors such as mining dilution and process recovery losses.
Mineral Resources that are not mineral reserves do not have demonstrated economic viability.
History
The mining district was discovered in 1866 and was originally called the Wilson mining district. The name changed over time to the Pine Grove mining district which reflects the name of the mountains in which the district is located. Gold was produced largely from two underground mines, the Wilson and the nearby Wheeler, which are separated by about 3,500 ft on either side of Pine Grove Creek. At one time the district hosted three stamp mills and reached a population of 1,000 people. Most underground mining was completed by 1887 with sporadic production to 1915. It is estimated that approximately 240,000 oz gold were produced with an average grade of 1.36 oz per ton gold from the district. Most of the old workings are shallow and are no deeper than 140 ft.
Previous Work
Several companies have pursued the district in recent times including Teck Resources in the early 1990s. Teck spent US$2.2 million dollars conducting geologic mapping and sampling and also drilled 188 reverse-circulation holes (67,488 ft) and two core holes (614 ft). Much of the drilling was on 100 ft centers. Although much of the district remains unexplored, Teck dropped the property. Lincoln is in possession of all of Teck's technical data, including drill hole logs and certificates of assay from ALS Chemex.
Lincoln Work
In 2008-2010, Lincoln drilled four large-diameter PQ core holes (799 ft) for metallurgical testing. Five column leach tests were conducted in 2010 by McClelland Laboratories in Sparks, Nevada. Results from the tests conducted on 3/8-inch crushed material were excellent to include 85% and 87.5% gold recovery. Additional large-diameter core for metallurgical texting was acquired in November 2010. Also, results from 39 bottle-roll leach tests were received in 2011 with encouraging results. The Company acquired new aerial photography and generated new topographic base maps suitable for mine planning and engineering. The Wilson and Wheeler patented claims were professionally surveyed to ensure that appropriate State of Nevada and US Forest Service jurisdictions are determined. JBR Environmental Consultants (now Stantec) in Reno, Nevada has been contracted to expedite all stages of permitting.

In November 2009, Lincoln initiated a reverse-circulation (RC) drilling program designed to reaffirm and potentially upgrade the Inferred resources reported in NI 43-101 technical report dated December 19, 2008. Drilling ceased in February 2010 and was renewed in July through August 2010. All new RC drilling data was provided to Tetra Tech in Golden, CO for incorporation in an updated technical report (filed on March 21, 2011). In July and August 2010, 843 soil samples were collected from the western portion of the Wilson patented claims onto lode claims staked by Lincoln. Several strong gold-copper soil anomalies were identified which warrant drilling. Lincoln has completed various biological and cultural surveys and maintains a weather station on site. In 2010, the Company contracted NV Energy to identify an electrical power source. The closest power source is approximately 13 miles northwest of the property. Ten key lode claims (Cavanaugh group) were purchased in 2010 and the Wilson deposit production royalty was bought down to a fixed 2.5% NSR.

In March 2011, a new technical report was compiled by Tetra Tech, Inc. of Golden, Colorado, under the provisions of Canadian National Instrument 43-101 and filed on SEDAR on was filed on SEDAR on March 18, 2011. On December 8, 2011, Lincoln announced that it has received a positive preliminary economic assessment ("PEA") on the proposed open-pit mining and heap leach operation at its Pine Grove Gold Project. The PEA was completed by Telesto Nevada Inc. ("Telesto") in Reno, Nevada.

Due to regulatory issues, all work on the project was suspended in June 2013 and no further work was conducted until May 2014. In September 2014, Stantec Consulting Services was engaged to assist with biological surveys at its projects in Nevada.
In October 2014, the Company received comments from the British Columbia Securities Commission (BCSC) who had reviewed the Company's PEA technical report and advised there were disclosure deficiencies. As a result of the BCSC review, the Company filed a revised and amended report, addressing BCSC comments and National Instrument 43-101 disclosure requirements. On February 16, 2015, Lincoln filed an amended and restated NI 43-101 technical report dated February 4, 2015 prepared by Welsh Hagan Associates (formerly Telesto Nevada, Inc.) The report is available under the Company's profile on SEDAR (www.sedar.com) and a link to the technical report is provided at the end of this section.
In June 2016, Goldcliff Resource Corporation ("Goldcliff"), a company with a common director, acquired the lease to the Wilson claims from the Company in exchange for Goldcliff assuming the future lease commitments as well as outstanding lease payments and work commitments. In August 2016, the Company entered into an agreement with Goldcliff whereby Goldcliff could earn a 40% interest in the Wheeler and Votipka leases and Cavanaugh property in exchange for incurring US$1,400,000 in exploration expenditure on the properties over three years and conveying back to the Company a 60% interest in the Wilson lease that previously was acquired by Goldcliff. The Company is the operator for the earn-in. By mid-December 2016, Goldcliff had completed a drilling program of 14 holes that totalled 2,132.6 metres (6,9762.5 feet). All assays were received by the first of February and are reviewed in the news release of February 9, 2017. No additional exploration work was carried out on the property during 2017 or 2018; however, several permitting studies were performed.
A Binding Letter of Intent between Goldcliff and Lincoln for the selling back to Lincoln of the lease on the Wilson Patented Claims located in Lyon County, Nevada was signed in October 2019. The Wilson claims are part of the Pine Grove development project and were included in the Pine Grove Joint Venture between the two companies. Goldcliff will receive staged cash and share payments and retain title to the claims until all payments and share issuances are completed, (see News Release of October 8, 2019).
On May 15, 2018, the Company through its subsidiary Lincoln Resource Group Corp., submitted a Mine Plan of Operations ("PoO") to the United States Forest Service, Humboldt-Toiyabe National Forest. The PoO was compiled by Welsh Hagen Associates of Reno, Nevada and incorporated data and information from several consulting companies that are working on the project. Submission of the PoO initiates the National Environmental Policy Act ("NEPA"), which requires the compilation of an Environmental Impact Statement ("EIS"), including public comment. The lead agency is the U.S. Forest Service – Bridgeport Ranger District in Bridgeport, California. Lincoln is working closely with its prime environmental contractor, Stantec and the U.S. Forest Service to advance the permitting process as quickly as possible. In August 2018, the Company engaged a team of consultants to guide it through the production permitting process. Stantec has been chosen as the lead contractor for the EIS.
To aid the Company in all this work, Lincoln announced the engagement of an effective permitting team that will allow it to proceed with permitting of the Pine Grove project towards operation. The consulting team with respective task assignments is headed up by Stantec Consulting Services Inc. ("Stantec").
Stantec Consulting Services Inc. – For the collection of environmental baseline data and writing of environmental reports, Stantec has prepared documentation to present the results of acid base accounting ("ABA") and meteoric water mobility procedure ("MWMP") of samples from drill holes intended to test waste rock at Lincoln's proposed Pine Grove project. This testing was requested by the NDEP's Bureau of Mining Reclamation and Regulation ("BMRR"). Stantec has delivered initial archaeological, botanical and wildlife studies to the USFS. Stantec installed a meteorological station and has collected site-specific weather data since 2010.
While activities at the project were slowed during the pandemic in 2020, Lincoln conducted a drilling program at Pine Grove in 2021. Five core holes were completed at Wilson Deposit adding to information related to rock structure, lithographic details, and structural controls for potential resource expansion. Three holes that were collared next to existing RC holes have provided structure, alteration, and style of gold mineralization, including quartz-sulfide veining with associated trace copper in known ore zones. In 2021, bonding was also put in place to cover disturbances for water well drilling, condemnation drilling and geotechnical tasks for future site construction. In In 2021, the Company also negotiated significant reductions of Net Smelter Returns Royalties at Pine Grove. The NSR on the Wilson property is now 1.0% and the NSR on the Wheeler property is 2.0%. The estimate operating cost for Pine Gove is US$650 - $850 per ounce. Capital cost is estimated at $36 million.
Project Plans
The PEA reports that significant exploration potential exists beyond current resources and recommends that infill and offset drilling be performed around the Wilson deposit, deep drilling in the Wheeler deposit, and expansion exploration drilling in known outlying anomalous intercepts.
As funding becomes available, additional exploration drilling programs will be developed to potentially increase the size of the resource base. These programs will test numerous prospective areas of the Pine Grove property. District exploration may include additional soil geochemical surveys, continue geologic mapping, and drilling on new and existing targets. Immediate work will focus on completing environmental baseline reports, water well and condemnation drill programs to finalize permitting. An updated NI 43-101 technical report and an updated Pre-Feasibility report is also planned.