Oro Cruz Property
Oro Cruz Facts
Location:
Cargo Muchacho Mountains, Tumco Mining District, Imperial County, California
Commodities:
Gold
Land:
1,223 hectares (3,020 acres)
Ownership:
Lincoln Mining option to earn 100%
Target:
Tabular mineralized zone dipping 25 degrees
Drilling:
491 drill holes; nearly 13,000 blast holes
Present Resources:
341,800 ozs gold "Inferred" resource in 4,835,000 tons with average grade of 0.070 opt gold (2.20 gpt) (compliant NI 43-101)
Status:
Existing open pit and underground mine with exposed gold mineralization
NI 43-101 Technical Report:
Filed in September 2010
Plan:
Explore down-dip extension and adjacent targets. Drill property in a effort to upgrade Inferred resources to Measured & Indicated categories is planned
Summary
The Oro Cruz property is located in the Tumco mining district in the Cargo Muchacho Mountains, approximately 14 miles southeast of the operating Mesquite gold mine (New Gold Inc.) and is adjacent to the past producing American Girl and Padre-Madre gold mines. Large-scale mining at Oro Cruz (Golden Cross) occurred during 1890-1916 and 1932-1941, producing greater than 150,000 ozs gold. In the mid 1990s, the property was mined by MK Gold Company. MK Gold produced approximately 61,000 ozs gold between 1995-1996 from both open-pit and underground mining operations. Mining ceased in 1996 due to low gold prices. Prior to cessation, MK Gold was conducting a significant pit wall push back to reach in-place "ore." Gold mineralization remains exposed in the open-pit and in underground workings. There are multiple exploration targets on the property.
The Company believes that Oro Cruz has near-term potential to be expanded and developed into a producing gold mine through renewed open-pit and underground mining. A NI 43-101 technical report, prepared by Tetra Tech Inc., and filed by Lincoln on September 21, 2010, announced an Inferred resource estimate of 341,800 ozs gold.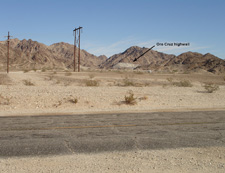 View of Oro Cruz highwall from highway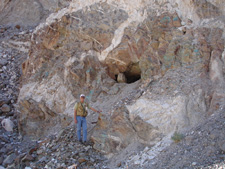 Mineralized zone in Oro Cruz pit

Oro Cruz claims map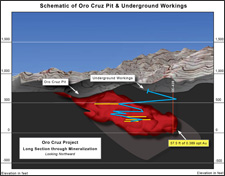 Oro Cruz Pit & Underground Workings
Location
The Oro Cruz project is located northwest of Yuma, Arizona, in the Tumco mining district within in the Cargo Muchacho Mountains, Imperial County, California. All-weather access is excellent and takes about 35 minutes from Yuma, Arizona, via Interstate highway 8 westward from Yuma, Arizona, approximately 13 miles to paved county road S34, then northeast approximately 8 miles to Tumco. Dirt roads provide property access. Some local access restrictions exist owing to historic mine ruins. The area has electrical power from the state grid. Logistics are excellent for mining.
Land
In February 2010, the Company's 100% owned U.S. subsidiary, Lincoln Gold US Corp., finalized a lease agreement with ADGIS Inc. to acquire 20 lode claims that cover the Oro Cruz gold deposit in Imperial County, California. The Company has staked additional contiguous lode claims which now cover approximately 3,000 acres. The Letter Agreement involves advance royalty payments beginning at US$50,000 per year, gradually increasing to US$200,000 per year in the 7th year. The NSR royalty is 3% for the first 500,000 ounces gold produced and 4% thereafter. A buy down provision exists on the royalty.
History
The Cargo Muchacho-Tumco district was discovered by the Spaniards and mined as early as 1780-81. The district is believed to have produced the first gold mine in California. Americans began mining the district at the end of the Mexican-American War in 1848. Mining was firmly established in 1877 with completion of the Southern Pacific Railroad to Yuma. Large-scale mining at Oro Cruz (Golden Cross) occurred during 1890-1916 and 1932-1941, producing greater than 150,000 ozs gold. Gold-bearing tailings from these operations remain on the Oro Cruz property. Texasgulf Minerals explored the property from 1985-1989 and conducted some column leach tests. In the early 1990's, the property was leased by the American Girl Mining Joint Venture and was mined under the JV from 1995-1996 by MK Gold. MK Gold produced approximately 61,000 ozs gold from open-pit and underground operations. Low-grade ore was hauled approximately 2.5 miles to the southeast and heap leached on the American Girl mine property and high-grade ore was hauled approximately 2 miles to the American Girl mine for milling. MK Gold ceased mining when the gold price dropped to $260 per ounce. There are approximately 400 drill holes on the property, which define the known in situ gold resources and drill targets. Underground conditions are said to be in excellent condition.
Geology & Mineralization
The local geology consists largely of metamorphic rocks of the Jurassic Tumco Formation which dip 25˚ to the south forming a homocline. Rock units consist of lower amphibolites facies gneiss and schist. Numerous pegmatite dikes cut the Tumco Formation and are thought to be late Cretacious to early Tertiary in age. Minor Tertiary latite dikes and sills are also present. The western portion of the project area is covered by alluvium and the eastern portion is intruded by Jurassic felsic intrusions. A geologic map of the district was completed by Texasgulf Minerals.
Texasgulf geologists believed that the gold mineralization originated in siliceous, stratabound exhalites which have since been metamorphosed and faulted. Other geologists believe that the mineralization originated from mesothermal fluids and is structurally controlled. The primary host is the Jurassic Tumco Formation where the gold occurs in local tablular zones in siliceous schist with associated magnetite, banded iron, and minor chalcopyrite. There are no significant sulfides. Very fine native gold occurs as disseminations and in fractures associated by magnetite, hematite and hydrous iron oxides limonite and goethite. Lower grade gold zones often encompass higher grade gold zones. Tertiary north-south to northwest normal faults cut the dipping mineralized zones.
The main Oro Cruz gold deposit is an irregular, elongate, tabular zone that dips approximately 25° downward from the open pit floor for at least 1,650 ft. Mineralized thicknesses are variable at multiple tens of feet. Lesser, parallel zones of mineralization are present. The deposit remains open down dip with the deepest vertical hole containing 60 ft grading 0.4 oz per ton gold (not true thickness).
Previous Work
Texasgulf Minerals conducted exploration during the late 1980's, which included district-wide geologic mapping, airborne and ground magnetic, surface sampling and drilling. The previous owner of the property and the American Girl Mining Joint Venture also conducted exploration programs. There are over 400 drill holes in the Oro Cruz Property. Since 1981, there was 196,324 ft of drilling of which 6,underground.pdf818 ft was core drilling. A total of 79,805 ft have been drilled outside of the main resource area.
Ten exploration targets have been identified on the property and good potential exists for extension of known gold mineralization and discovery of new gold zones. Pan concentrates and gravel samples suggest potential for placer deposits. Magnetic anomalies are thought to be associated with elevated magnetite in the siliceous, gold-bearing zones.
Present Resources
On September 21, 2010, Lincoln filed a NI 43-101 technical report prepared by Tetra Tech detailing an Inferred gold resource of 341,800 ozs contained in 4,835,000 tons with an average grade of 0.070 opt (2.20 gpt) gold. The report recommends a work plan including a twin-hole drill program, bulk density and metallurgical testing to potentiallly upgrade the resource to Indicated and Measured category.
Recent Developments
In December 2010, Lincoln announced that the Oro Cruz claims block had been expanded. An additional 63 lode claims that cover structural projections of the American Girl and Padre-Madre gold deposits were added. The new claims cover prospective pediment areas as well as various gold prospects in local bedrock. The Oro Cruz property now consists of a total of 151 lode claims held under mining lease and staked by Lincoln. Lincoln controls 100% of the property.
In March 2011, Lincoln and Elgin Mining Inc. ("Elgin Mining" or "Elgin") entered into an exploration financing agreement, granting Elgin the exclusive right and option to acquire up to a 60% undivided interest in the Oro Cruz property by funding exploration expenditures. Over the next two years, Elgin has committed to fund exploration at Oro Cruz totaling $3MM, prior to earning any interest in the project. In September 2012, Lincoln announced that it has terminated the Letter Agreement as certain obligations under the agreement have not been fulfilled by Elgin Mining. Elgin has disputed the validity of Lincoln's termination of the Agreement and the parties are now proceeding to arbitration under the terms of the agreement to address and resolve the dispute.
Project Scope & Plans
Lincoln plans to explore the down-dip projection of the Oro Cruz mineralized body in an effort to determine the extent of gold mineralization. A new topographic base map has been constructed which will aid in the positioning of new exploration drill holes. The Company also plans to conduct some infill drilling to potentially upgrade the existing Inferred gold resources to the Measured & Indicated categories. All planned drilling will require permitting under the jurisdiction of the US Bureau of Land Management, El Centro Field Office. Permitting and drill program will be delayed pending arbitration.