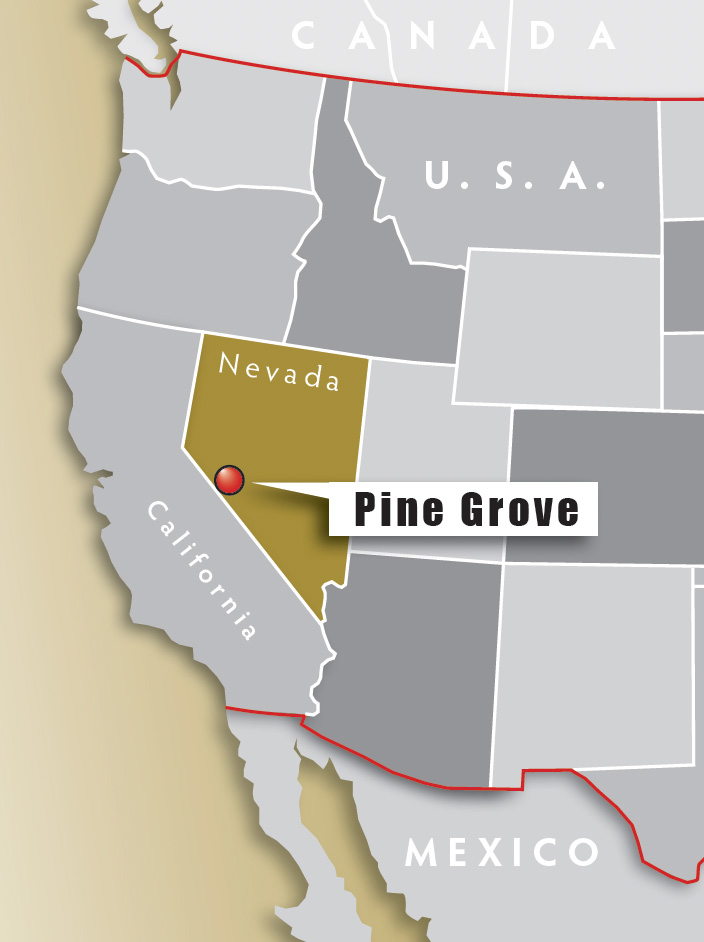 Lincoln Mining Corporation (the "Company") is a Canadian based exploration and development company trading on the TSX Venture Exchange under the symbol LMG and on the Frankfurt exchange under the symbol ZMG2. The Company holds interests in two gold properties in key mineral regions of Nevada and California. Both projects are situated in districts with histories of gold production. Lincoln's primary goal is to advance the Pine Grove project in Nevada towards production. The Company's long term objective is to grow steadily through cash flow from production, by acquiring new precious metals projects that hold exploration potential, and by diversifying its mining projects portfolio through joint ventures with established companies.
Nevada
The Pine Grove Property is a development-stage gold project. A technical report for the Pine Grove project was filed on March 21, 2011 and reported that the Company had received a positive Preliminary Economic Assessment for the Pine Grove project on December 8, 2011. On February 16, 2015, Lincoln filed an amended and restated NI 43-101 technical report, dated February 4, 2015 prepared by Welsh Hagan Associates (formerly Telesto Nevada, Inc.), entitled "Amended and Restated NI 43-101 Preliminary Economic Assessment for the Pine Grove Project, Lyon County, Nevada." The amended report addressed comments raised by the BCSC. The report is available for viewing in the Technical Report section. For a more detailed description of this project, including maps, photos and recent activities please go to the Pine Grove Property section.
In August 2016, Lincoln entered into a binding letter of intent with Goldcliff Resource Corporation ("Goldcliff"), who are currently earning a 40% interest in the Pine Grove property by spending $1,400,000 (US) over 3 years. It is the intention of both Lincoln and Goldcliff to advance the Pine Grove project into production.
California
The Oro Cruz project is located in the historic Tumco Mining District of southeastern California approximately 14 miles southeast from the operating Mesquite gold mine and adjacent to the past producing American Girl gold mine and the Padre and Madre gold mines. It is a pre-development stage project. A NI 43-101 technical report was filed on SEDAR in September 2010 reporting Inferred resources of over 340,000 ozs gold. Lincoln believes that the Oro Cruz project holds potential to be expanded and developed into a producing gold mine through renewed open-pit and underground mining. Please go to the Oro Cruz Property section for more details on this project.
Senior-level Management
While good projects are critical to success, equally important is a management team that can negotiate the risks, difficulties and complexities of mineral exploration and development. Lincoln Mining Corporation has an experienced team that includes senior executives, mining engineers and geologists who have developed major mines and explored some of the world's most important mineral regions.